Damián Negrón had been suffering from cervical and lumbar pain due to degenerative disc disease in both areas for years. He needed a solution, but the options in the US were very invasive and not convincing. In addition, as a Johovah's Witness, he had specific needs that have to be discussed and agreed beforehand with doctors. He therefore sought other alternatives and decided to travel to Spain to undergo an artificial disc replacement (ADR) surgery at Instituto Clavel.
What we have available in the United States of this kind of operation is spinal fusion, which was something I did not want to do. I heard about Instituto Clavel thanks to a person who underwent surgery with Dr. Pablo Clavel and, after years with this problem, researching for a long time, I knew that what I wanted was ADR," explains Damian.
When he made his mind up, he contacted the center to understand his options. This whole process was performed online because he was living in Puerto Rico. "Super comfortable, actually it was very easy. The response was very fast, something that also impressed me a lot. The documents are not complicated at all, I uploaded the tests and all these stuffs, also very simple," he says when asked if he felt comfortable doing the process over the Internet.
His condition, cervical disc herniation and lumbar disc herniation, affecting both areas, involved two ADR surgeries (cervical ADR and lumbar ADR) and the doctor offered him the opportunity to undergo both surgeries in the same operation. Damián saw it as the best choice and accepted it, but told the doctor that he wanted no blood transfusions during the operation, a decision related to his religion.
Damián's experience at the Instituto Clavel as a Jehovah's Witness
"One of the things that gave me the most satisfaction was the way Pablo Clavel treated me as a Jehovah's Witness, it seemed that he was too a Jehovah's Witness, at that level. He approached it in a different and professional manner and showed a great deal of respect. It is something that moved us deeply because in the United States, in Puerto Rico, we have many differences with doctors. Here, people believe a lot in blood transfusion and, eventually, it is a medical process like a pill, right? That can be rejected or not, depending on the treatment one considers best for himself," details Damián.
In this sense, the advantage of ADR surgery is that it is a minimally invasive intervention in which vertebral osteotomies, which could involve a large loss of blood, are not performed. In addition, in the operating room of Instituto Clavel, the medical team has intra-operative blood salvaging allowing the blood lost by the patient to return continuously to the patient's bloodstream, significantly reducing the need for blood transfusions.
"Pablo understood my decision very well and this was one of the things that gave me confidence in him. As I say to everyone, the best night I slept was the night before I was operated on, after talking to him. I left feeling confident that everything will be fine. I never heard him say, "Something bad may happen to you", never, in any conversation with him and that was of great help," he adds.
The operation and hospital stay
Damián arrived in Barcelona in mid-June. He traveled without problems from Puerto Rico thanks to the documents provided to him by the team that justified his trip because it was a medical process. He underwent the COVID-19 test before starting the trip and also the day before the operation. With a negative result in both occasions, then the surgical process began.
"I was admitted on June 17, the day of the surgery. On arrival, my wife and me were taken upstairs to the room. I loved the idea because in the United States it is not like that, you are dropped off in a waiting room with lots of people waiting for different types of surgery. Here, they also pick you up in the room when you are ready. It was excellent, more comfortable, relaxed and personal. We liked that a lot," he explains.
The disc replacement surgery lasted approximately 3 hours, in addition to the recovery time. "When I woke up, I felt good. I did have some pain, but not as much as I expected in such surgery, with two surgeries in one, neck and back," he recalls.
After the surgery, Damián was admitted for 5 days, he highlights the care he received from the team during that time. "The team was excellent. Sonia was with me at all times for the tests. When I went to the cardiologist, the anesthesiologist... Olga was also with us and both of them came to the room to visit me and to see how I was, something one wouldn't expect. They also brought me flowers to the room. Everything shows their excellent personal service".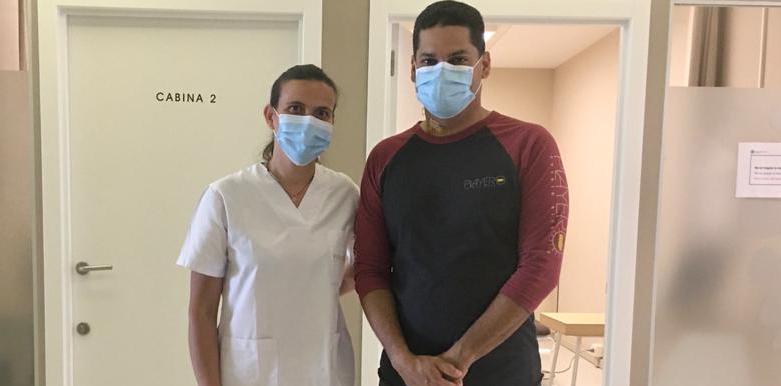 Rehabilitation and journey home
Once discharged, Damián and his wife stayed a few more days in Barcelona to attend rehabilitation sessions in FisioSpine. "I had four sessions with the best, as I say, with Laia. An excellent physical therapist taking into account that I know many therapists, but she has excellent skills," he stresses.
When these sessions ended, he had a final appointment with the doctor in which he received the needed recommendations to continue recovery at home. "Now I feel very well, the neck is super good. I do have sensations on my feet and some pain in the back area because, as he explained to me, he had to work quite a lot in that area. It's going to last about three months, but the most intense lumbar or cervical pain no longer exists, I'm doing therapy here with exercises and it's amazing how fast recovery goes."
And the latter is precisely one of the things that he highlights most from his experience when we asked him. "The most impressive thing about this surgery is the recovery process. I know a friend who has undergone a spinal fusion surgery and the operation lasted seven hours, mine lasted 3 hours and involved two surgeries. Three months after surgery, he still has trouble walking. The neck of another acquaintance was fused and he spent months with a collar. My neck was operated on and four days after surgery I was as right as rain. Not being so invasive, recovery is incredible," he says.
Now it is not only his friend who recommends this kind of operation, but also Damián does. "I recommend it 200% without hesitation. I really do. Clavel is a doctor who thrives, when one looks at him one thinks, as we say here, he should be walking in the clouds (that is, he deserves to go to heaven). Tremendous, that's the truth," Damián concludes with a smile.